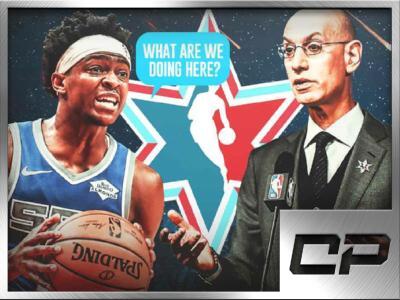 Kings' De'Aaron Fox rips idea of planned NBA All-Star Game
AWAY
HOME
0
0
Unknown
expand collapse
closed_captionclosed_caption_off
sound_mute sound_down sound_up
/
play_arrow pause
expand collapse
Tip Leaderboard
tip_leader
continue
Other Commentary
community
continue
bucks
Send a Cash Donation
You may not donate or send yourself gifts Ok, understood
bucks
Send a Cash Donation
Send a donation to this broadcaster using your credit card.
Make Payment Now
---
tix
or Send a Gift
Send a virtual gift using credits called Tix. What's this?
Tix Balance: tix 0
Click Here to purchase more Tix.
Learn More About Gifts
Kings' De'Aaron Fox rips idea of planned NBA All-Star Game
The NBA and the NBPA are nearing an agreement to conduct an All-Star game this season despite the COVID-19 pandemic. Even though De'Aaron Fox has gotten some respect as a possible All-Star for the Sacramento Kings this season, the young point guard questioned the league having an All-Star game this year, via The Athletic's Jason […]
The post Kings' De'Aaron Fox rips All-Star Game, but NBA and NBPA are going ahead with it anyway appeared first on ClutchPoints....
Read Article
5 Views
Adam Armbrecht
@AdamArmbrecht